If you are anything like our team, being at home for days on end can cause you to go into creation mode. Some of us go full artist-mode, turning attention to music and home decorating. And then there is me (Brittany) that loves blogging and all things content creation. So here we are with me writing you this post and laughing about this meme that pretty much sums up how I feel about the quarantine…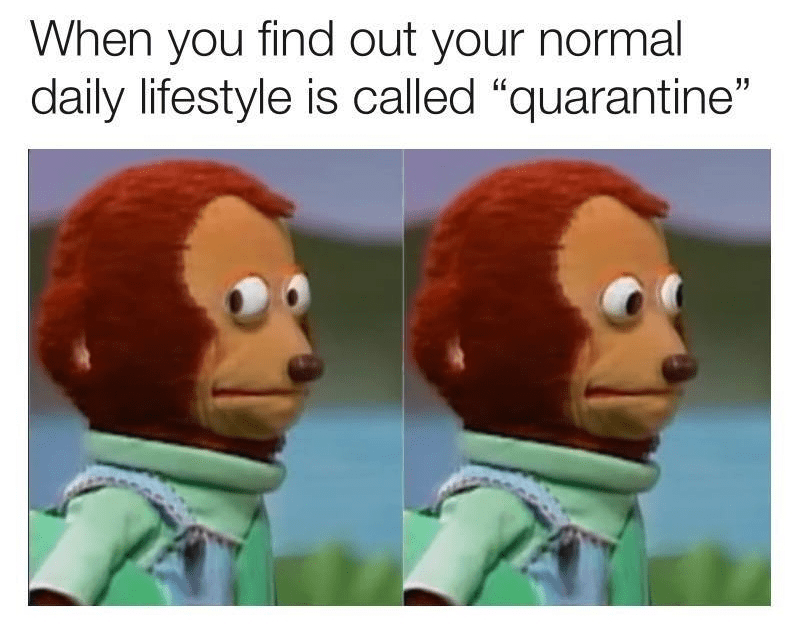 I had a couple of friends reach out to me this week and ask how I started working from home and I decided it was high time that I spread the information in this post with all my favorite friends out there (read: you).
This blog is an intensive all-in-one guide to starting (and running) a successful online business and learning to work from home. If you just need some cash on the side or are looking to make a career shift, this one is for YOU!
How to start a money-making business from home
#1 Choose Your "Thing"
The first thing you need to do when deciding to start any business is deciding what you want to do. Do you want to sell custom products? Write and perform music? Build websites? Write books and blogs?
The options can feel endless. My best advice is to always find the thing that lights you up like a Christmas tree and do THAT! You want to pick something that will relax and refresh you for the most part, because if you are side-hustling and working a full-time gig the last thing you want to do is wear yourself thin and feel overwhelmed. Which leads me to step 2.
#2 Make a Plan
If you are reading this blog during the COVID-19 quarantine, I suspect your time will be even more open. #socialdistancing
However, life will get back to a somewhat normal routine at some point and you are going to find a reason NOT to continue your venture. This is where your willpower and resolve will make or break you. Having a set time when you can devote 30 minutes or an hour a day can make all the difference. Maybe you give up an hour of Netflix binge, or you wake up an hour earlier. Whatever your solution make sure it is viable for your everyday life! Don't be like me saying for a month you will get up at 6:00 am only to snooze till 8 and feel "late" the rest of the day! #realtalk
Set realistic goals and expectations with the knowledge that you will get out of this what you put into it (at first).
Now that you have decided the what and the when we need to talk about The Who
#3 Find your Perfect People
Think about what are you going to sell and ask yourself, who is the person that needs this the MOST? Chances are there may be someone you actually know in real life that fits the bill. If that's the case use them and build what is called a "Customer Avatar"
A what-ey what? Customer Avatar. It's the marketing jargon for your perfect person. Someone who will buy, use, and love your thing you sell! Also knows as a fan.
If you need help with this step, we have a simple guide that can help you build the perfect audience and get your business actually moving!
#4 Get a website
If you expect to sell online you need a website (and possibly a shop) to get fit done! One of the biggest mistakes I see people make is not investing in themselves from the start. Does it take money to start a brick and mortar business? YES! Starting a business online is no different…you just don't need quite as much.
You are going to need a powerful website with all the tools that can help you make sales and turn a profit while you sleep. If you want to build passive income, you have to put in some upfront work and the cash to back it up.
Does this mean you have to spend an arm and a leg to get the latest and greatest tools on the market and then spend 10 years learning to use said tools? Nope, we did it for ya!
Weeknight Website is WordPress Reimagined. We offer you all the power of WordPress, with a team of professionals and maintenance built-in! We literally want to give you a 10-year head start we WISH we had when starting our online businesses.
If you have lost your main source of income due to COVID-19, we want to offer you an extended free trial of Weeknight Website to help you get your new business off the ground!
#5 The Sale is in the Email
This is a common saying in the online marketing world and it's not hard to see why. For every subscriber on your list, you can expect to make about $1 per month per subscriber. Depending on your email copy and what type of product you have to sell you may even see numbers higher than that!
We have quite a few resources to help you build an email list, templates for you to use in writing emails, and our new fave email marketing software that is so easy to use!
#6 Make sure your homepage is designed to SELL SELL SELL!
We get it, it can be confusing figuring out what to put on your website and then figuring out where to put it…
Don't leave your dreams undone! Download our super-simple Perfect Homepage guidebook and build your homepage with confidence! Weeknight Website helps you get a website up in 7 days or less, so you can splendor the rest of quarantine with some wine and family time while your business does its thing!
These are some of our best tips for starting a money-making business. Stay tuned next week to see how to can add a little gas to the fire and start making it RRRAAAIIINNN!
Check out some of our other posts for your next steps building an online business!