Do you have a product and you need to know how to market a product online AND actually make sales. We understand the struggle to make a viable living making sales online. It's one thing to have a product, but if you don't know to actually make sales, or you need help with the technical website stuff, this post is for YOU!
Watch the Full Video Replay Below
Read the Transcript of the Webinar:
I have some really awesome information for you guys today and we are going to be talking about how to make more online sales, your fall guide to increasing conversions. Now a lot of times when we talk about sales and conversions, we forget that people are actually looking at our website regularly during the fall season and that Google is serving us up.
If you've followed our free keyword research guide, and you're applying these keywords to your content, then you're getting exposure naturally.
How do we increase sales volume?
Fall is the best time for marketing a product online. Sales go up at the end of September all the way through the end of the year and then dive down again in mid-January. Usually, this is the time of year when people are shopping for holidays and family gatherings. You want to capitalize on this fall sales season. Today, I'm going to show you how to market a product online to increase your sales this year.
1. Know Your Customers (1:56 to 4:13)
The first thing that I want you guys to know is that you need to know your customers. If you do not know who your customers are then how are you going to give them the absolute perfect thing to buy? YOU'RE NOT.
Sometimes when people come to me and they say, "Hey, I'm just not making any sales." The first thing I will ask them is "Who's your target audience?" If they can't answer that question, my first step is to go back to the drawing board.
To make sales online, you need to anticipate your customer's needs.
Ask Yourself:
What is going to solve the problem that they are trying to fix?
Do they need help finding the perfect gift for somebody that they love?
What life goal do they have, and how can you help them meet that goal?
When you help them meet that goal, you're telling your customer, "I value you and your goals in your life more than I value making a sale." That strategy is always going to be the best sales strategy you could have.
That's exactly why, at Weeknight Website, we take such an interest in support and making sure that our members know that we are here for you. We didn't just set up our Weeknight Website platform because we wanted to give you a website builder. Our goal was to give you website BFF's that you could call and say, "Hey guys, I can't figure this out. I just need some help."
We've got an awesome testimonial from one of our amazing users about making the switch to Weeknight Website recently. She said…

Do the same thing for your customers. Love them well and they will love you well back, I promise.
If you need help with this step, we have a free worksheet on how to attract your perfect customer online and stand out from the crowd! ????
Click the button below and snag a copy of this free worksheet if you have not already!
Key Take-Away: You need to know your customers better than they know themselves.
2. Use Banners and Pop-Ups (4:13 to 5:11)
Who wouldn't want banners and popups on their websites? Kristin actually covered how to market a product online with banners, popup forms, and all sorts of other cool marketing tips, last week on our Weeknight Website Webinar.
If you do not already know how to add popups and banners to your website to increase sales and email sign-ups, just click the button below to check out the full blog post. Or you can head to our user's only Facebook group and the complete step by step tutorial for how to add banners and popups to your Weeknight Website is right there.
Banners and popups are going to be one of the number one converters for your website during the fall season. You want people to get on your email list, you want people to purchase your products, you want people to use your discount codes. So use those things wisely and…
3. Start NOW (5:11 to 6:24)
Everybody always waits until the last minute. They wait until they are thinking about fall and pumpkin spice lattes and then they're rushing. They've got so many ideas and they don't have time to accomplish every goal that they had for their fall sales.
I tried to run a Black Friday sale last year and it was comical how hard it was because I started too late in the season. ????
People are starting to buy and starting to think about fall right now so you need to be prepared with your graphics, website, landing pages, and your offers.
You need to be really clear on what you're selling this fall so that when October comes, you're ready to press the "go button" and you're ahead of the game.
You will also be ahead of everybody else because the more time that you're able to run your campaigns, the more exposure they're going to get. This especially applies to…
4. How to Market a Product Online Using Social Media for Promo (6:24 to 9:31)
This is so important and there is one specific network that I see people overlook all the time (seriously, I talk about this network probably 3 or 4 times a day to people and they are always shocked.)
USE PINTEREST!
Pinterest is an amazing social media network for easily getting started learning how to market a product online. Did you know that the life of a tweet is about three minutes. The lifetime impact of a Facebook post (that's not boosted with money) is about three hours?
The lifetime impact of a pin is eight and a half months?
When you pin to Pinterest, it actually is a long term traffic driver because Pinterest is a social media network that is also operating as a search engine.
The more that you know about Pinterest, the more traffic that you can drive to your website and the better your sales are going to be.
If you want quick, lasting traffic, use Pinterest. It is amazing.
MEMBERS ONLY
We have a complete tutorial where teach you how I grew my Pinterest account to over 1.8 million monthly viewers on Pinterest. If you're not a weeknight website member, you can get a free 7-day free trial and get access to all our member's benefits. We know you are going to love us so much you will hang around! ????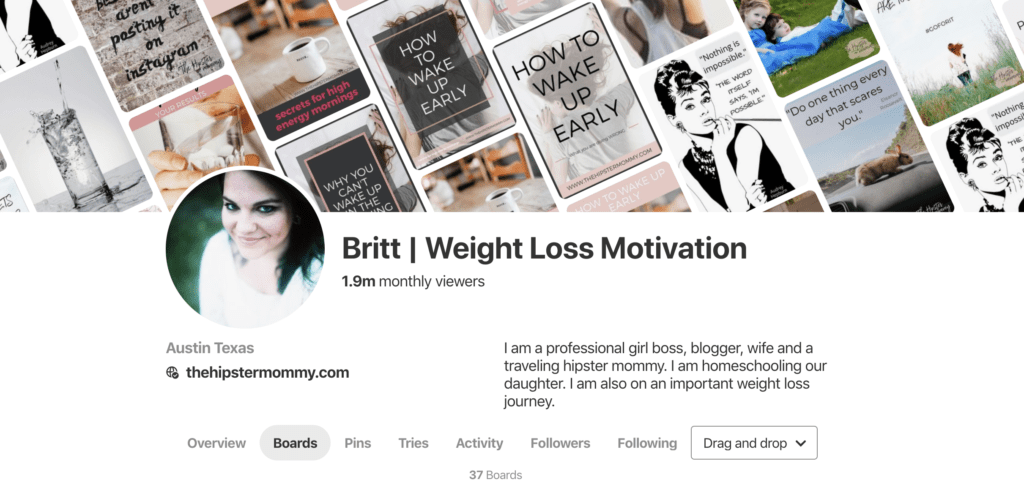 Now I'm not saying that Facebook and Twitter don't have their benefits. They absolutely do. But if you're not using Pinterest, you are missing a huge market segment. Especially when it comes to holiday shopping and planning, people love using Pinterest to buy and plan.
Bonus: How to Market A Product Online with Bundling Strategies (9:31 to 12:54)
Bundling your products is one of my favorite tricks for how to market a product online. Let's say, for instance, I have an e-book I want to sell. It's $15 and I want to bundle it with something else that I offer. If I have a coaching product, an audio version of the e-book, a course, or even another e-book, I can increase my average order value by adding in another product that is already a good seller for me. This will also increase the perceived value for my new e-book offering.
Then, I could offer a coupon code for my Black Friday or Holiday special. I would set up a coupon for each social and promotional network so that I knew exactly where each sale came from. This will help me assess which of my leads were converting better.
This is the biggest secret that I can give you guys. Learn to track and learn to measure. If you can do that, you can outsmart anybody else online.
Thanks for joining us for this super fun webinar and if you need help with your Weeknight Website or if you are interested in getting to know us a little better head to our Facebook page and send us a chat!