Doing proper keyword research can be hard sometimes. Especially when you are trying to do your keyword research for free. So we decided this week we would show you all of our favorite secrets for exactly how to do keyword research for free so you can get your website ranking on Google.
Good news, if you use Weeknight Website as you WordPress Builder, we have Yoast SEO already preinstalled which will help you actually get your target keywords ranked easier on your pages and your blog posts. We have a lesson on getting that set up in your dashboard to make sure you are making Google happy with your content and letting them know how amazing you are and that you deserve to be RANKED HIGHER for that keyword you worked so hard to find.
The tools we use and the steps we cover in this mini-lesson are all listed below so you can follow along with us click by click! Also, make sure you grab our free spreadsheet download at the bottom! ????
Keyword Research Tip #1- Brainstorm (:30 to 1:37)
This looks a whole lot like grabbing a piece of paper and writing a bunch of stuff down. Okay?
I want you to think about what are some of the terms that if someone was looking for your topic on Google, what would they type into the search bar?
For my example today I am using one of my own sites. I run a website called ketoisforgirls.com. The goal is to teach women how to do Keto Diet properly
I start by asking myself… what would I need to know if I was a beginner?
How to start a Keto Diet for beginners
Kito Diet
Kito Diet plan
Keto meal plan
All right, so there are some of my ideas. Next, I'll show you what to do with those ideas. What I want you to do now is go ahead and do this for yourself. I will be right here when you get finished!
Keyword Research Tip #2- Use Ubersuggest (1:37 to 3:07)
Open a tool called Ubersuggest from Niel Patel. This is going to help you expand your terms. It's going to give you all of the stuff that you maybe didn't think about. Ubersuggest will recommend synonymous keywords that are helpful that you can add to your site to help you rank for more than just that one term (which gives you MORE traffic).
These are going to be key terms that are a really great opportunity because the competition is low and the traffic volume is high and that's what we want to see. So after you do that, you're going to go make a spreadsheet of your ideas.
Because we love you guys… We made you a free spreadsheet that you can use for your very own!
Keyword Research Tip #3- Use Keywords Everywhere (3:07 to 3:58)
This handly little firefox or chrome extension is a lifesaver for me! I love Keywords Everywhere to see what all my competition and search volumes for my site is.
This tool will make your search results look a little like this right here…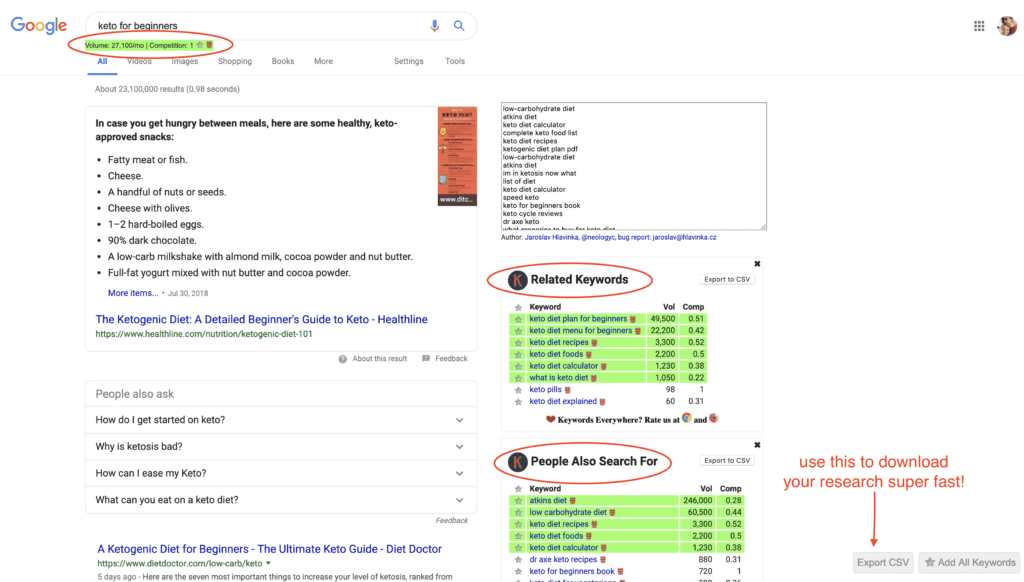 Keyword Research Tip #4- Update Your Spreadsheet (3:58)
Next, make sure you update your spreadsheet per the instructions. I have added a color code for you to help you actually know which term is the main one and a count column for you to see how many times you have added the key terms to your page. as you build your site and optimize it for SEO, make sure you come back and update the spreadsheet.
Keyword Research Tip #5- Add them to your site (4:00)
The very last step, super easy, is to add the keywords to your website, which seems pretty easy, right?
But where do you even put them? You're going to want to make sure you have them in your
Page title
Your Url
In your headers
Throughout your copy on your page
In the first paragraph of your page copy
Image alt tags
Pro Tip: Make sure you have some variations of it sprinkled throughout your copy. You don't want to just say Keto for beginners the whole time. You want to mix it up and use other terms such as Keto Diet for beginners, Keto meal plans for starters. Use the other terms you added to your spreadsheet.
Make it sound natural and remember that you're always talking to a person. You're not just talking to Google.
Watch me do all these steps live! ???? (6:26 to 19:24)
Follow along as I do keyword research for free on my very own blog live on the screen. I will show you all my steps and how to do them for your self!
Want to learn more about SEO in general? Check out our Member Library with more tutorials just like this one!