So, you want to make a killer promo video for your website. We fully support that decision! Video is amazing for promoting your products and service, but it can also feel totally overwhelming if you have no idea where to start. How can you make video attainable and not feel like a HUGE project? Here are some of our best tips for how to get started making a killer promo video for your website – the fast-tracked way!
Want to watch our full webinar about this? Check it out👇
First let's talk about WHY you need video…
1. Videos build trust: people can see you, hear your voice, and see you in action which gives you their trust more immediately. Seeing is believing!
2. They help position you as an industry expert – this can send you leads or other press opportunities.
3. You can showcase a product or service via video and let people see you or your product in ACTION!
4. The emotional appeal and human connection of video will lead to a better relationship with a customer!
5. Awareness/ Virality: Want to see your name in lights… on Youtube? Video is where it is at, and going viral is way easier with video!
6. Videos can be informational (ie: a tutorial for future customers.) If you show them how to do something useful and helpful in their life or how to use your product, you will likely increase sales!
6. Video can compliment or add credibility to another marketing campaign. Think about all the products you've purchased after webinars, 5-day challenges, or after seeing a customer review video!
What video does for your SEO
SEO (Search Engine Optimization) is how you get your website to show at the top of Google search results and drive free traffic. So if you want in on that action, you NEED to be using the power of video to drive people to your website. Because videos are considered "rich content" by Google, they will always help you rank better in search results.
Whether people realize it or not, they also use Youtube as a search engine. When they are looking for instructions on how to do something, they are looking for videos. When they are looking for the next greatest playlist, they head to YouTube.
So how do we get great videos?
The first decision to make when planning a promo video for your website or business is if you're going to DIY-it or hire a professional. If you are working with someone else here are a few tips to help the relationship go really well:
The most important thing you need is a reference. References allow the person you are working with to complete your vision as you are seeing it instead of guessing all the time. If you want something just like your favorite Superbowl commercial, send your pro a link to what you're talking about.
Which leads to the next most important thing you need to know, share your budget! We can often think playing our budget close to the vest will make us more likely to get a good deal. Let me just tell you now, it won't. Your pro has a price point already and your budget won't change that. Be upfront and let them know, they may have a package that will fit your needs or maybe they can refer you to someone else who can fit your budget.
If you are going to DIY this project we have a few recommendations for you as well. Make sure your gear is up to the challenge. We HIGHLY recommend renting a good DSLR camera for your shoot to get the most bang for your buck. There are usually video rental houses in every city and the staff there can usually make great recommendations if you tell them about your project.
If you're recording a video on your smartphone (no shame in that game!) some other equipment you may want to snag is a tripod, a ring light, and a microphone for your camera or phone. Here are the ones we use and love…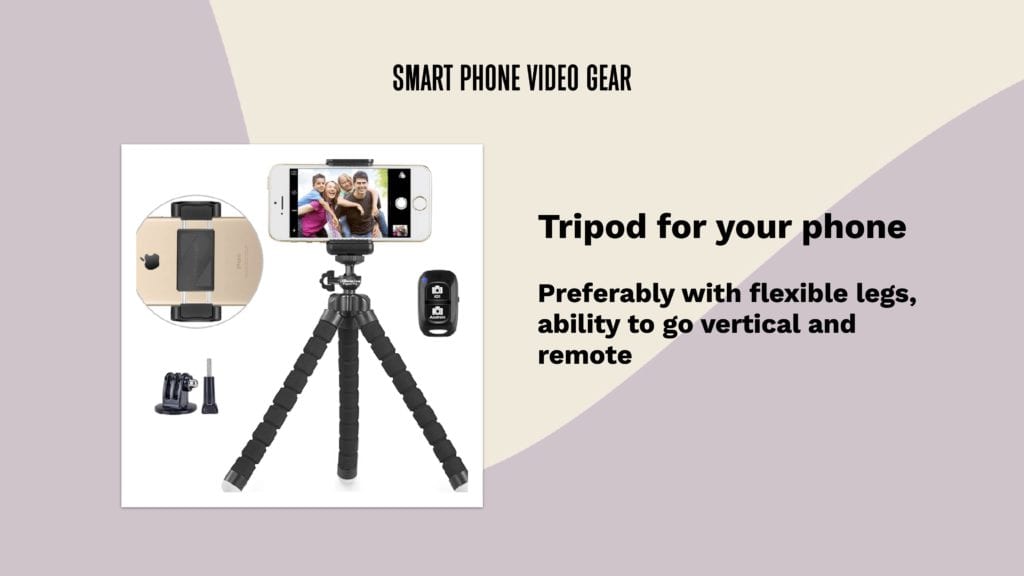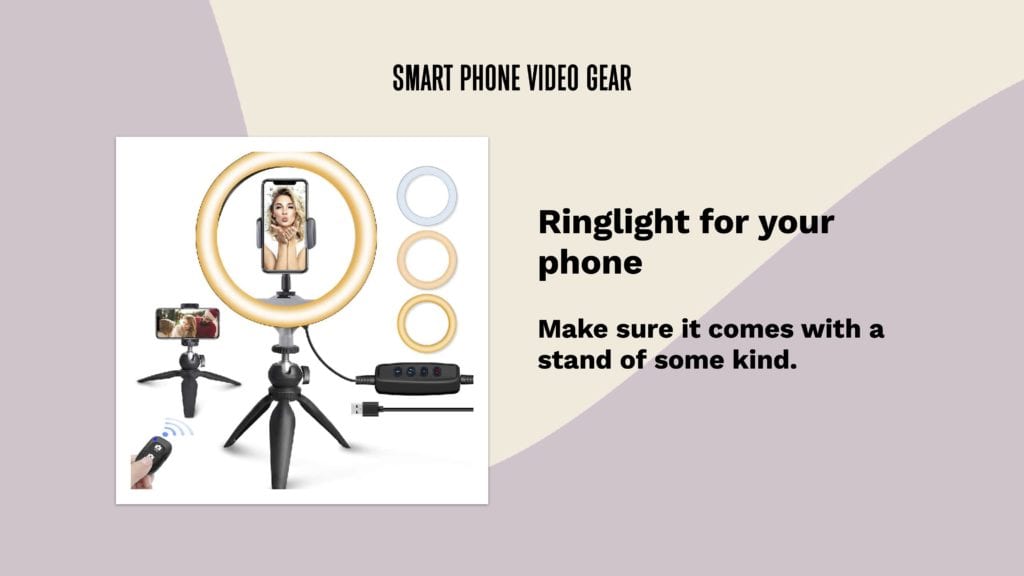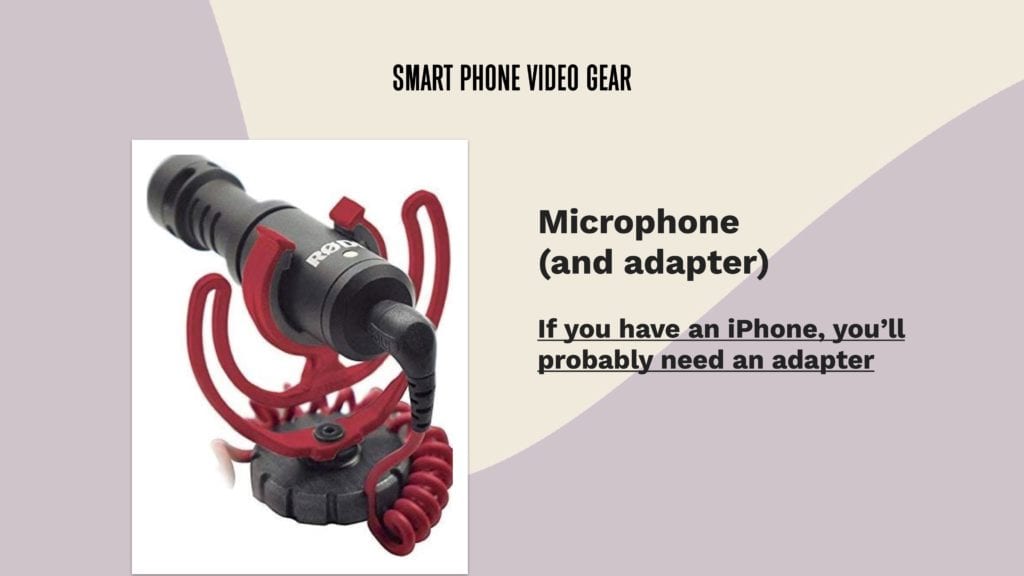 Planning your video
When you are planning your videos keep in mind that you NEED to grab the visitor's attention within the first 10 seconds or they will stop watching (it's science!) If you don't grab their attention in that time frame you risk losing your audience altogether.
One way you can head this off? Make a script – maybe not something that you follow line by line but just something that will help you keep your talking points organized. We will talk more about this in the next point!
Be sure to think about B-Roll – aka other things you will cut to so you aren't just a talking head. Images, stock video footage, and slides or graphics are really helpful to add visual interest.
If it's a product showcase video: might want to create a "Storyboard" for your shoot. How do you do that? You basically make a rough drawing and add descriptions of all the shots you will need to tell the story in your video. Take a look at the example below!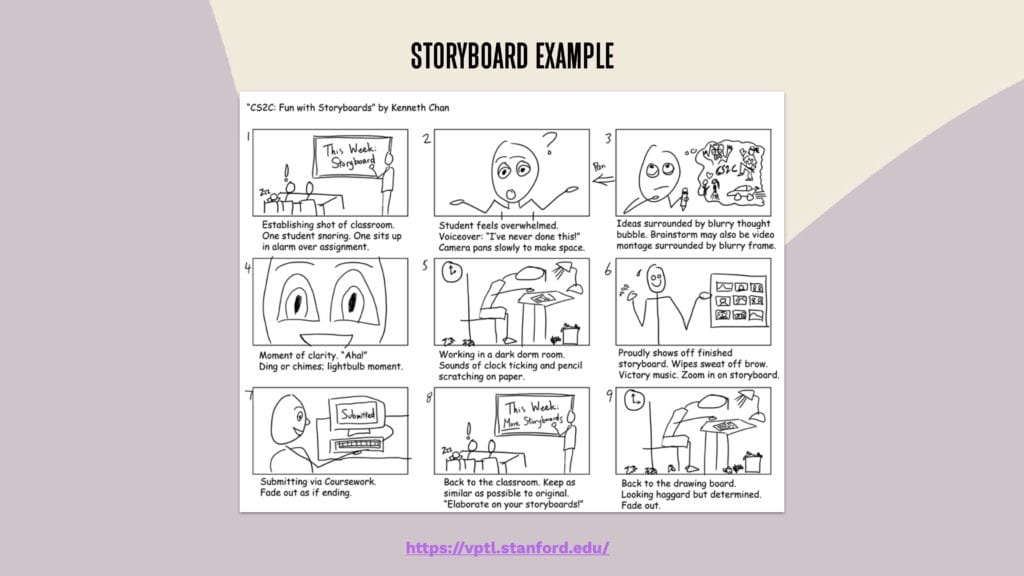 Script Formula
Now, when we say scripts we do not mean something you have to write out and memorize word for word. That can make the video world a lot more challenging and make you sound stiff. What we DO mean is to have an outline of your talking points in an easy to follow format that HOOKS the viewer, tells them who you are, and gives them the information they need to make the decision to buy! Follow the script formula below to make your promo video bullet proof!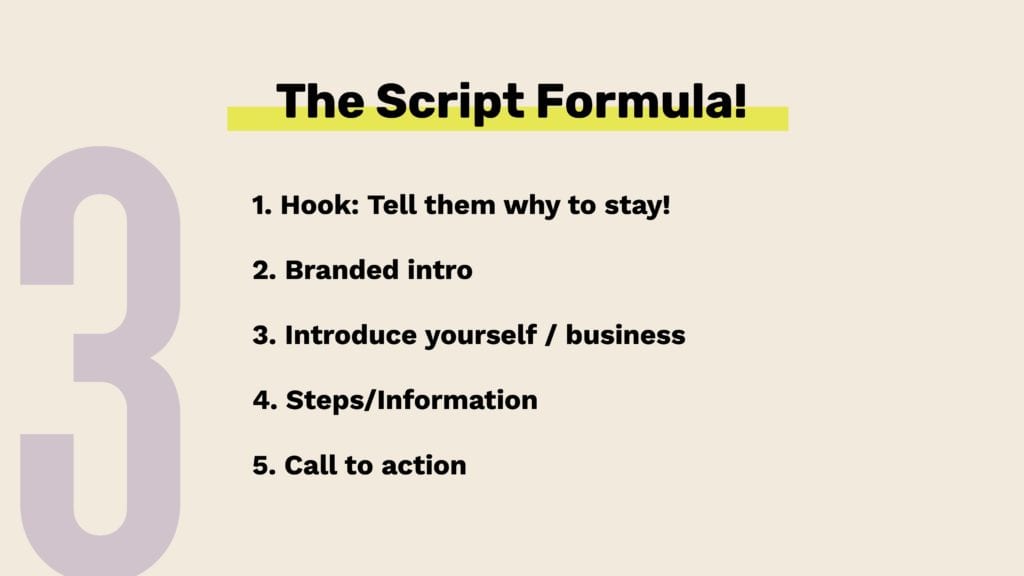 PRO TIP: When you flub while recording, don't dismiss it thinking, "We can just edit that out later." Taking the time to get a clean take of your point will save you tons of time editing later! In general, it is less time consuming (and less expensive) to fix all of these issues on set rather than having to spend all your time in editing trying to paste together a good shot.
Editing Like a Pro
There are a few valuable tips you need to know if you are editing your own videos. First, and most importantly, cut the fluff. You want to make your video as short as possible! Think of the average video length you watch. If it goes on forever you end up losing your audience and diluting the power of your message.
Some of the best DIY tools for the actual editing of your video are iMovie (if you have a Mac) or Adobe Premiere, the most professional option. There are also online video editors and apps too, like InShot.
If you want to make a branded video intro: VideoHive has cool templates you can use. Even Canva has "Youtube Video Ads" that you can customize to make a moving title slide. If you want to hire out the video intro part of your video, Fiverr "Youtube Intro" starts at just $15.
For background music: Audiojungle is a great source for royalty-free music. Make sure you don't use anything you don't have permissions to use! Your video could get taken down by Youtube or social media networks if you do.
After the Editing
Even once the video is done being edited you still have some work to do. One of the best things you can do for accessibility (making your content friendly for anyone searching and browsing on the internet, including hearing-impaired individuals) is to add captions to your video. This allows anyone who cannot listen to your video to still get the value from your content. You also want to make sure that you choose a great video thumbnail. This will help you get more clicks on your video and get people interested enough in your content to hang around and see what you have to say!
PRO TIP: Host your video on Youtube or Vimeo – not directly on your site! This will help keep your site speedy and fast and give you the double power of search rankings on the video outlet while also letting you claim the content and make your pages a rich and valuable resource for Google and your audience!
Final thoughts
The best advice we can give you is to KEEP GOING. Your first video will likely be your longest one to make but as you get in a good rhythm with it, you will find video gets easier and easier!